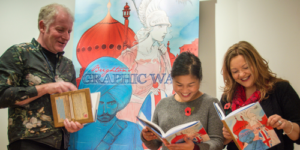 Brighton's Graphic War our NEW graphic novel is out now!
We embarked on this project because the 100th anniversary of the Great War marked a moment in time where we could creatively engage young people in understanding the lives of their forebears, and the impact the First World War had on Brighton and its people.
The participants used local stories and archive images from the period between 1900-1920 to develop their stories and artwork, and were supported throughout by experienced comic writer Tim Pilcher and artist Paul Collicutt. The book, and e-book, were launched on Armistice Day, 11th November, 2016.
Brighton's Graphic War is available in all quality local book shops like City Books in Hove, and Dave's Comics in Brighton's North Laine, as well as online at Amazon and other retailers priced at £12.99.