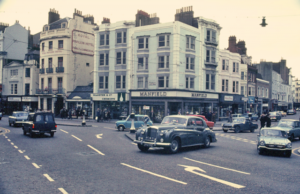 In 2017, QueenSpark Books celebrates 45 years of community history publishing, making us the longest-running organisation of its kind in the UK. We are now also delighted to have become a registered charity for our educational and heritage work.
To mark this, we're planning on looking back at Brighton in 1972 and that's where we'd like your help! Do you have memorabilia – gig tickets, festival programmes, Brighton & Hove Albion souvenirs or other items you could share images of? Photos of Brighton places, people, transport, fashions? Memories of work, family life, nightlife in Brighton & Hove? If so, we'd love those to be part of our celebrations.
QueenSpark Books was born of the campaign to stop the spa being converted to a casino, and this video slideshow made at the time of our 40th anniversary revisits those early days with some great images of Brighton.
You can contact us via email below or join us on Facebook and Twitter to share images and memories. We're still planning our celebrations so check back here and on social media – can't wait to see what you uncover!
And as part of our founding commitment to making Brighton & Hove's histories accessible, we're gradually digitising our out-of-print books and making them available as free (or donation!) PDF downloads. More are being added, so check our list of titles here for books in print, e-books and downloads.
Image: East St/ North St 1972 courtesy of Leslie Whitcombe, Brighton & Hove Photographic Collection