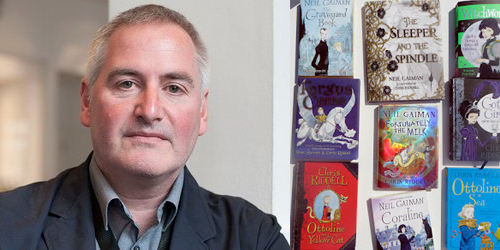 QueenSpark Books are thrilled to announce that the cover design for the new Brighton's Graphic War novel will be drawn by UK Children's laureate Chris Riddell.
The illustrator, who lives in the city and who creates political sketches for the Observer newspaper, as well as collaborating with comedian and author Russell Brand has said that..
"This is an exciting and innovative project – the Great War is an emotive subject that resonates with artists and writers and this is a wonderful chance to see this from a Brighton perspective."
This new book is a full colour, World War One-themed graphic novel, featuring the people and history of Brighton & Hove.
QueenSpark Books is currently crowdfunding to help publish this exciting graphic novel with a special offer on our Kickstarter campaign. Those who would like to pledge £200 can get a signed exclusive print of the cover by Chris, alongside a number of other book rewards at a variety of prices to support this project.
This Kickstarter project lasts from 1st March- 28th April 2016, and offers a variety of great rewards for all pockets, from signed copies of original artwork to having your own graphic portrait drawn.
The book seeks to engage readers of all ages, those who love graphic novels as well as those who've never read one.
Got to The Kickstarter Page
For more information on Brighton's Graphic War see the Project page.