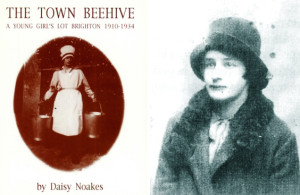 Many of the early books written in the mid to late seventies were based on individual people's memoirs of life in Brighton. A typical autobiography is A Town Beehive written in 1975 by Daisy Noakes, shown here in "her first hat that fitted". The hat (and coat) cost £1.
Daisy started a family trend – she not only wrote her life story, and later published a sequel Faded Rainbow (1980) – but husband, George Noakes, wrote about his early life in the period before he married Daisy. To be a Farmer's Boy (1977, out of print)) describes George's idyllic countryside childhood in an era when children had much more freedom to roam without today's safety worries.
By the early eighties a new direction could be detected with books which examined life in Brighton at the time.