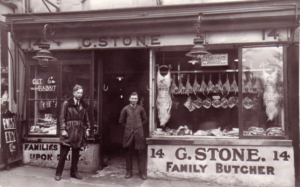 In the past 45 years we've produced more than a hundred local history books, many of which have now been out of print for decades. So to celebrate our anniversary, we're making those books available as PDF downloads on a pay-what-you-like basis, and planning on using some of those texts to create fresh anthologies.
While these books have been available to browse at the Jubilee Library or The Keep, they've only been available to buy when they pop up in a second-hand bookshop, so we need your help to bring these invaluable and unique memoirs to a 21st Century audience.
Many of the books contain content which is fascinating, and often shocking to a modern reader: the grinding poverty of life in Brighton & Hove, the long work hours for little pay, the joys and fears of working-class childhood, the danger and camaraderie of wartime.
We are recruiting a team of volunteer readers to help select the best texts. Our next meeting is 6-7pm on Monday 19th June at Unit 8, Mezzanine floor, Brighton Open Market. At that meeting we'll choose the book(s) from which you'll select the text, and you'll be paired up with another volunteer to compare notes. We anticipate that you'll need to spend up to six hours over the following couple of weeks reading and selecting the text, then getting back together again to discuss.
The main themes emerging at the moment are childhood, working lives, West Pier memories and life during wartime, but many more themes may emerge. Please contact us to get involved or find out more.
Here's our complete book list, so if you see a book that's not currently available as a hard copy or download, contact us and we'll digitise a copy just for you!