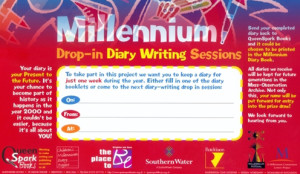 The year 2000 was commemorated with the publication of a child's-eye view of the Millennium, based on diaries and project work undertaken in conjunction with local school children.
'The Children's Millennium Diary Anthology' (2001) is presented much like a scrapbook and offers an insight into the thoughts, crazes, hobbies, habits and humour of the contemporary young mind
Other publications focusing on childhood recollections were published in 2002. 'Are you sitting comfortably?' and 'Remember the First Time?' include stories about childhood milestones – birthdays, Christmas, Easter and that perennial favourite, seemingly endless summer holidays!
In 2003, 'School Reports' continued this theme by encapsulating the anecdotes of past pupils of St. Luke's School in the Queens Park area of Brighton in the years between 1908 – 1983.
Following these projects, Queenspark Books made a move to publishing creative writing and fiction inspired by Brighton and Hove.