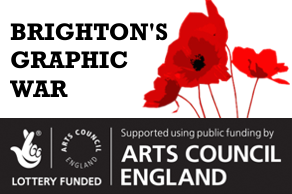 With support from Arts Council England, QueenSpark Books is delivering a two year WWI project in which young people (aged between 15 – 25) will create a fictional, Brighton based WWI Graphic Novel to be published in Autumn 2016.
Following on from the immense success of Brighton: The Graphic Novel – which was long listed for the 2014 British Comic Awards – the WWI project will use the history of Brighton & Hove as its starting point.

Brighton's Graphic War will be published later this Autumn, with a book launch on 11th November 2016.
It contains approximately 170 pages of story, historical background and related content and will retail at £12.99.
The Kickstarter site is now live to contribute please go to Kickstarter WWI Graphic Novel
The project goal is £2,750 – Deadline April 28th 2016 at 11:09 PM GMT
QueenSpark Books officially launched Brighton's Graphic War at the University of Brighton on the 20th of January 2015 .
Using the staring point BRIGHTON: The Graphic Novel it was decided that the same methods would be employed to make Brighton's Graphic War, only this time all the volunteer writers and artists recruited would be young people aged between 15 and 25.
Mentors Paul Collicot, (who is guiding the artists) and Tim Pilcher, (who is coaching the writers) explained how the young volunteers would be supported to achieve their Silver Arts Award as part of their involvement.
About the mentors..
PAUL COLLICOT
Paul graduated from Brighton Art College in the mid-1980s. Since then he has worked as an illustrator for clients across the world. Venturing into writing / illustrating picture books he won the Parent's Choice Foundation of America Gold Medal for his book, This Train. He started creating graphic novels for Templar Publishing with his Robot City series and created The Murder Mile for SelfMadeHero. He loves colouring in and doodling for a living!
TIM PILCHER
Tim has written comics for the BBC, The Young Telegraph, De Agnostini and Weldon Owen and is the author of over eighteen books, including his Vertigo memoir, Comic Book Babylon. He's lived in Brighton longer than anywhere else and is a regular public speaker and lecturer.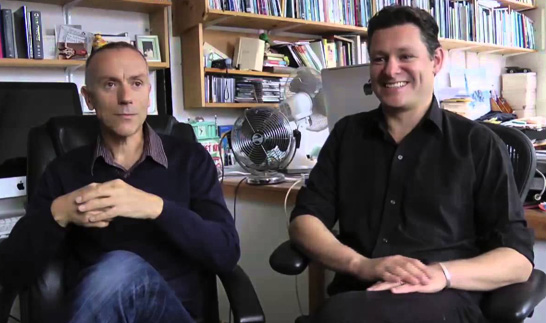 Paul Collicot and Tim Pilcher
N.B. The blog illustration is by Maria Parra