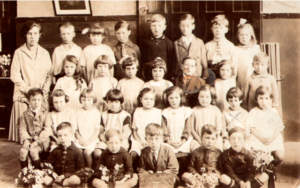 As part of our 45th anniversary celebrations, we're making the texts of our out-of-print history books available as PDF downloads on a pay-what-you-like basis.
Most of these books have been unavailable for many years, so the downloads offer a valuable chance to learn more about Brighton and Hove in byegone times. Many of the books explore a child's-eye view of life in Brighton, from the First World War through the 1920s and 1930s, the Second World War into the 1950s, providing a unique collection of memories.
Life was often very hard for working people in Brighton and although these memoirs are told through the view of a child, they also illustrate clearly the hardship suffered by their families.
We are adding more books all the time, but so far the following books are now available to download. We ask you to pay what you like, so if you can make a donation to QueenSpark Books to help us continue our work of gathering and preserving Brighton and Hove's untold histories, it would be appreciated.
Our Small Corner is a 1994 autobiography and the sequel to Sid Manville's Everything Seems Smaller. It recalls memories of friends, neighbours and relatives who made up the 'small corner' of Sid's neighbourhood in Bear Road in Brighton in the Twenties and Thirties.
Barbara Chapman was born in Brighton on a snowy Boxing Day in 1927. In her 1994 autobiography, Boxing Day Baby,  she reminisces about her early childhood; focusing on her memories of home and school, and the effects of the Second World War on herself, her family, and the community.
In his 1992 book, Just One of a Large Family, Don Carter gives a personal account of living in the Tenantry Down neighbourhood of Brighton in the 1920s and 30s. Don and his many brothers and sisters were raised by their father after the death of his mother in a time when the poor had no electricity, there was no NHS and people worked long hours just to make ends meet.
Sheila Winter's 1998 memoir Moulsecoomb Memories recalls the growth of the community of Moulsecoomb. Sheila was born, raised and married there, and narrates the story of her life during the years between 1929 and 1950.
Sheila's father was badly injured in the First World War, and although the estate was built as "homes fit for heroes", times were still hard and the house was so cold that the family were forced to burn old shoes and books to keep warm. In the late 30s an outbreak of diphtheria on the estate led to the death of a number of children. Sheila recalls local tradespeople, shops and characters, as well as the gradual development of the estate.
Andy Steer's 1994 memoir, Brighton Boy, is a schoolboy's tale of Brighton in the 1950s. This vivid child's-eye view paints a picture of post-war Brighton and its long-lost cinemas, ice rink, trolley-buses, the penny arcade on the Palace Pier and sporting events. There are also the privations of the era such a power cuts and a need to count the household pennies, and memories of the strictness of a fifties school regime.
In her 1995 memoir, Those Lost Years, Mary Adams describes being sent as a teenager to St Marye's convent school in Portslade in 1947. It was an institution largely shut off from the outside world which held a laundry and was surrounded by extensive land where the residents were expected to work for long, hard hours, or climb into manholes to clean the drains, and faced routine punishment for minor rule infringements.
Mary expected to stay there for two years but when she was in her early 30s she realised she would never leave. This book remains a shocking – though surprisingly forgiving – account of abandoned children and adults in institutions in the 20th century.
Little Ethel Smith describes growing up in the Barcombe and Staplefield area after World War One, and the author going into service age 14 in Barcombe and Lewes.
Snapshots: Childhood Memories of Southampton Street 1942-55 is a 1996 autobiography, where Janis Ravenett recalls her memories of growing up in Southampton Street in the Hanover area of Brighton, during the years between 1942 and 1955. Janis describes a childhood that was happy and full of fun, living in a house in a close-knit community with few modern conveniences, and tells of the excitement of swimming at Black Rock pool, visiting the then new and modern estate of Coldean, and taking a trip to rural Woodingdean.
The Town Beehive e-book is also available to buy in a format for Kindle, Google reader and so on.