QueenSpark Books – 45 years of community publishing in Brighton
We were formed in 1972, as part of a grassroots campaign to convert the 1824 Royal Spa in Brighton's Queen's Park to a nursery school – instead of a planned casino.
The struggle succeeded, aided by the circulation of a street newspaper called QueenSpark, which provided information about the campaign and also the Sparchives column, focusing on a series of reminiscences of the area.
In the early years we published books documenting the lives of local people as part of a pioneering movement that highlighted working class lives, autobiography and writing through oral history recordings, diaries and workshops.
More recently, our books have included histories of the cinema and theatre in the city; accounts of some of the newer communities to arrive, photographic collections and autobiographies of Brighton and Hove residents. We have also been using the graphic novel as a form in which to explore and illuminate the history of Brighton. We have also produced a groundbreaking and important book documenting the lives and histories of Trans*gender people living in the city.
In 2017 we celebrate our 45th anniversary by looking back at aspects of Brighton in 1972.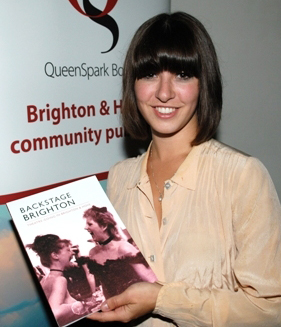 Timeline
February 2016
The success of the campaign and popularity of the 'QueenSpark' newspaper inspired others to continue writing about life in Brighton [...]
January 2016
In the nineties personal memoirs featuring Brighton landmarks continued to be published. Examples include: 'Deckhand, West Pier' (1993) Arthur Thicket's [...]
November 2012
On 8 November 2012 QueenSpark Books celebrated its 40th anniversary with a fundraising event that reached its target towards the printing [...]