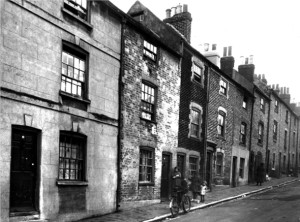 In 1988 QueenSpark published Backyard Brighton in association with the Lewis Cohen Urban Studies Centre.
It included photographs, like this one of Richmond Hill, and reminiscences gathered by Brighton Borough Council with the intention of creating a record of houses that were scheduled for demolition during the 1930s.
Backyard Brighton was a seminal book leading to several more featuring the history of Brighton's urban life:
Back Street Brighton (1989), a sequel to Backyard Brighton incorporating photographs taken in the late forties and early fifties of houses in Brighton that were scheduled for demolition in the fifties and sixties.
Brighton Behind the Front (1990) a collection of Brighton wartime reminiscences documenting how ordinary people were affected by the Second World War.
Blighty Brighton (1991), a collective memory of Brighton during the First World War including posters, photographs, pictures, songs and personal recollections.
As a result of these books, Brighton was seen in a new light. There followed a series of "Market Books" featuring autobiography, anthologies and poetry.