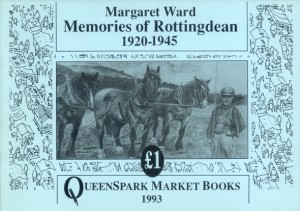 In 1991 a new generation of books known as Market Books were introduced to the QueenSpark Books collection.
Market books were intended to be produced cheaply and sold on market stalls by volunteers. Printed A5 size in monochrome, they differed from the more expensive and glossier publications in the main collection.
Some market books were personal life stories such as Bert Hollick's Pullman Attendant (1991, out of print), Margaret Ward's Memories of Rottingdean (1993) and The Smiling Bakers (1992, out of print) by George Grout, a member of one of Brighton's best-known family bakers.
Others were collaborative efforts, often therapeutic in nature, such as Life After Stroke and Stroke: Who Cares? written by survivors of strokes and their carers in 1993.
There were also collections of verse such as Serious Intent (1996). This included new, original and varied poetry by local writers from a wide variety of backgrounds.
QueenSpark Books' publications further developed with a series of books focusing on some of Brighton & Hove's diverse communities.