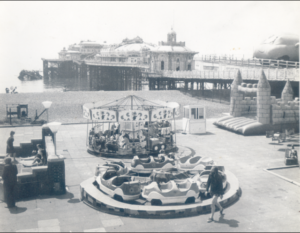 In the past 45 years we've produced more than a hundred local history books, many of which have now been out of print for decades. So to celebrate our anniversary, we're making those books available as PDF downloads on a pay-what-you-like basis, and using some of those texts to create fresh anthologies.
Our latest publication is Brighton's Seaside Stories,  a 70-page People's history of the seaside,  lavishly illustrated, taking in the piers, work and leisure on the sea front, and the local fishing trade.
We'd like to thank everyone who supported our successful Kickstarter campaign to support the book's publication.
Take a look at the video here.
And here's our complete book list, so if you see a book that's not currently available as a hard copy or download, contact us and we'll digitise a copy just for you!